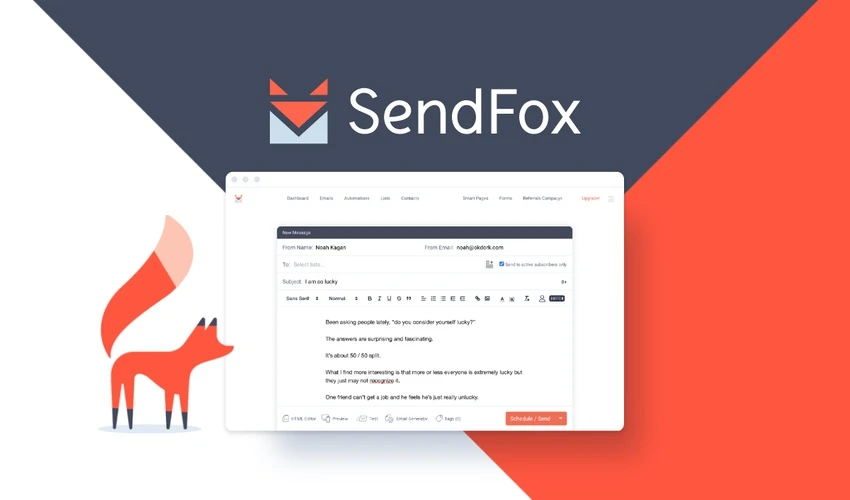 Introduction
Which is the most effective and useful marketing strategy? There are many different answers to this question. However, based on everyone's opinion, email marketing is suggested as the most useful marketing strategy.
But the question is which tool is best for email marketing that can work without any hassle and get good ROI? No worries, SendFox would be the most effective option for you to solve this problem.
This article is about what SendFox is, its features or how to buy it, and its pricing. So read the article and get a complete idea about SendFox.
What is SendFox?
Simply put, SendFox is an email marketing tool that allows you to send your customers numerous emails at once. This tool allows you to create your own contacts with your acquaintances and you can send emails based on their interests.
This tool lets you create, schedule, and automate unlimited customized emails. You would be surprised to know that over 20,000 subscribers use SendFox to send millions of emails each month and measure their results.
What are the Features of SendFox?
Interface
The most notable feature of SendFox is its clean interface, which makes it easy for anyone to navigate. Its interface is simple compared to other email marketing tools. It has 5 links and you can use them for different purposes. Its non-stop interface will give you the best experience.
Multiple domains in one account
This tool can send emails from any domain. You can use lists from multiple domains as well as create your own list. Each email and automated campaign can be sent from any email you specify, as well as verify those domains.
Landing pages
A great feature of this tool is its ability to create landing pages and forms. Are you a content creator and regularly upload various content to YouTube or Instagram? If you do not have a website you will never be able to grow your email list.
But SendFox can give you that advantage. You can use it to create branded landing pages. From it, you can collect leads using embeddable forms that are fully CSS customizable.
Automation
SendFox works great for automating an email process. When someone joins a specific list, you can easily send them a customized email. Once they have interacted with your email, you can easily add them to another list and continue sending automated emails.
First, visit the SendFox Lifetime Deal page
Wait for sometime because after a while a discount popup will appear in front of you
Now type your email in the email box
Continue with the typed email id
Enjoy a $10 discount which is only valid for new customers
Prime Benefits Of SendFox Lifetime Deal
Lots of domains in just a single account
Mobile responsive emails
Powerful analytics
Has a wide range of integration
RSS feed functionality
Test and preview feature
GDPR consent feature
SendFox Lifetime Offer (Deal Terms)
Comes with future lifetime plan updates
5 license tires available to choose
Need to activate the license within 60 days after purchase
No codes and no stacking
GDPR compliant
Get bonus features by just 10 per month with Empire Add-on
60-day money-back guarantee
SendFox comes with three types of License Tier where there are three types of pricing plans. The price of Tier 1 is $ 49.00 where you can get 5,000 subscribers with all the features. Tier 2 is priced at $ 98.00 with all the features and 10,000 subscribers in this package. The final Tier 3 is priced at $ 147.00, this package has all the features and 15,000 subscribers.