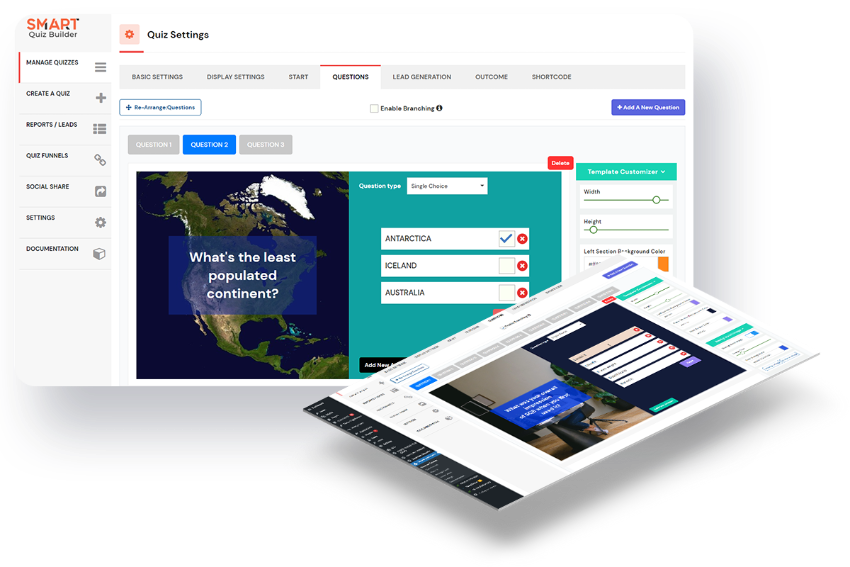 What is Smart Quiz Builder?
Smart Quiz Builder is a WordPress Quiz Plugin that lets you design your own quiz funnel so that you can generate leads from it. This will allow you to ask a list of relevant questions from your prospects and recommend appropriate resources and products for them based on their answers.
This WordPress Plugin Tool will help you quickly get relevant data about potential customers by spending a short time on visitors to the site. If you want to create high-quality, effective, and professional quizzes then Smart Quiz Builder is the best option for you.
Why You Should Use Smart Quiz Builder?
Smart Quiz Builder is surely a great WordPress Plugin for link building and quiz building. Being customizable, you can create surveys at your convenience with this plugin. There is also no possibility of any complications in preparing a survey. Let us know the reasons why you should use this plugin.
With this plugin, you can create many quizzes of your choice
You can determine how many times the question can be asked
There is an advantage in choosing multiple correct answers and those answers can be kept separate
It is also a very effective option for creating leads and increasing sales on the website
| | |
| --- | --- |
| Pros | Cons |
| Advanced customizable plugin | There is no opportunity to collect quizzes from different sites. |
| Any kind of quiz is supported. | No question bank can be made for random questions. |
| It is possible to create a quiz without any hassle. | |
| You can assign different tags based on the results. | |
| A time-saving WordPress plugin tool. | |
How to Use Smart Quiz Builder?
Using Smart Quiz Builder is not a difficult task. You can install it and then use it by following a few simple steps. Do you want to know how you can use this plugin? No problem, we can help you. For your convenience, we will now discuss step-by-step guidelines so that you can use this WordPress plugin easily.
Step 1: Once the plugin is purchased you will get login details in your email account. Log in to your account to see those details. If you are in doubt about your credentials, click on the forgot password link on the login page.
Step 2: As soon as you log in to your account, you will get the WCP license key and smartquizbuilder.zip file here. Now you need to copy the license key and download the zip file.
Step 3: Now you need to login into your WordPress admin dashboard. To log in, go to the plugin page and click on "Add New".
Step 4: In this step, you need to upload the downloaded Smartquizbuilder zip file and activate the plugin.
Step 5: You have reached the very last stage. Now you need to type the license key by clicking on SmartQuizBuilder in the left sidebar or your WordPress dashboard. Once the license key is given, you can start using Smart Quiz Builder.