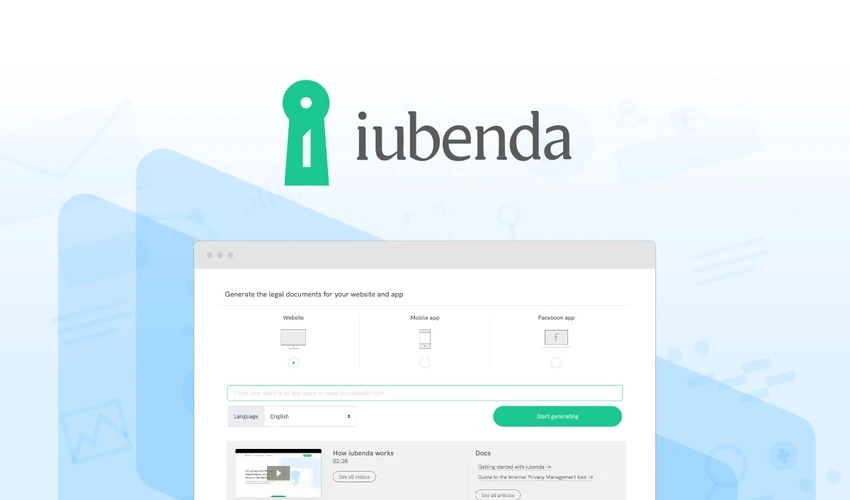 What is Iubenda?
Term of use and privacy policy is a very important thing for a website. Iubenda is software that helps you create these essential things. It ensures that the website complies with the required General Data Protection Regulation (GDPR) laws.
The Iubenda options will help you to manage cookie compliance with a website's various cookie policies, terms, privacy policies, and applicable laws. It is very easy to use and it is available in different languages.
What are the Features of Iubenda?
Provide Compliance Solutions Just Like Attorney-Level
You can enjoy the same benefits from the Iubenda Privacy Policy as you would from the Attorney. You can fill out compliance solutions at extremely chip fees from legal practitioners.
Customized clauses
With this tool, you can create more than 1300 drafts in 8 different languages. But if you do not find what you are looking for then just ask. You can create custom provisions using the built-in platform.
Up to date policy
Iubenda has come up with a self-updating feature which means you don't have to update different laws on your website again and again. This tool creates a point to inform you about data privacy policy, privacy policy statements, and any changes to Internet privacy.
Allows a dashboard for multiple sites
A special feature of the Iubenda privacy policy is that it allows you to access multiple sites using only one dashboard. It also allows you to monitor, edit and update all your policy statements for your site.
You do not need to install or set up a cookie that you do not want to use on your site separately. With a simple click of the setup and integrated button, you can complete the whole process at once.
View Offline
Using the Iubenda tool will allow you to access your privacy policies even if your users and visitors are not online or trying to access them offline.
How to Buy Iubenda Lifetime AppSumo Deal?
First, visit the Iubenda Lifetime Deal page
Wait a moment. After a while, you will see a discount popup in front of you
Type your email in the Email box
Continue with the typed email id
Enjoy a $10 discount now which is only valid for new customers
Prime Benefits Of Iubenda Lifetime Deal
You can get attorney-level compliance solutions
No need to update any newest features as this tool comes with the self-updating feature
Multiple sites are available in just a single dashboard
Just click one-time and active coolie policy
Your views can access your privacy policy even if they are not online
It can maximize consent collection
Iubenda Lifetime Offer (Deal Terms)
Get lifetime access to Iubenda
Comes with all future Ultra Plan updates
You must redeem your code (s) within 60 days of purchase
Stack up to 3 codes
GDPR, CCPA, & LGPD compliant
Only for new Iubenda users who do not have existing accounts
Transfer of sites/apps or documents from existing accounts created before the campaign to LTD accounts is prohibited
Optional add-on: additional consents available for purchase from Iubenda after purchasing three codes (see below pricing table)
60-day money-back guarantee, no matter the reason
Iubenda Lifetime Deal (Pricing)
Iubenda comes with 3 types of packages – single, double, and multiple.
The single package comes with 5 Iubenda licenses, 50,000 total page views, and other features. Its price is only $ 59.00.
The double package includes 15 Iubenda licenses, 150,000 total page views, and other features. The price of this package is only 118.00.
And at last, the multiple packages come with 25 Iubenda licenses, 300,000 total page views, and all the other features. Its price is just $ 177.00.